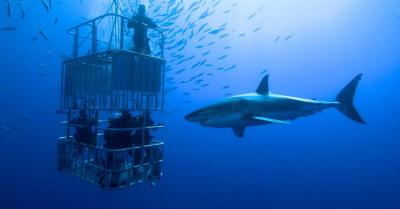 2023-06-05
Want to be a marine biologist for a day? Take a tour with Atlantic Shark Expeditions.
This Nova Scotia cage-diving company will take you out on the ocean to observe great white sharks. It's run by a marine biologist.
Swimming with the fishes
You can watch the sharks from the boat, says Dr. Hammerschlag. But if you're brave, you can take a closer look.
You climb into an aluminum cage. The crew lowers the cage into the water. Sharks and other fish swim right by. What a thrill!
"Face to face with the world's most amazing super predator!" he says.