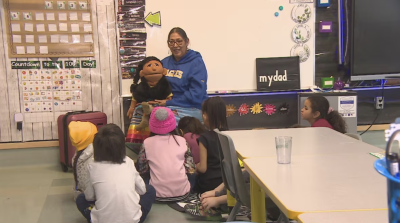 2023-04-06
A language teacher in Carry the Kettle Nakoda Nation, Saskatchewan has found a fun way to teach kids Nakoda. Her name is Kushi. She's a puppet.
And she only speaks Nakoda.
Fun with words
Theresa O'Watch brings Kushi when she visits the kids at Nakoda Oyade Education CentreKushi looks like a Muppet from Sesame Street. And like a Muppet, Kushi makes learning fun. The students dance and sing and laugh.
"We're trying to save our endangered language. I believe that if we make the language fun, our students will learn it. So we play a lot of games," says Theresa.