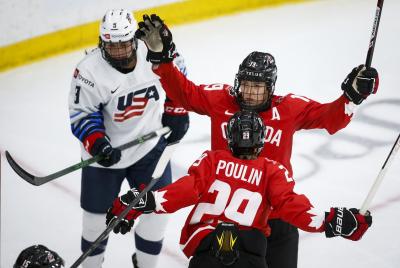 2021-09-13
Hockey fans had a night to remember on August 31. It was the women's world hockey championship final in Calgary. Canada versus the U.S.
Team Canada was strong and hungry. The team came through the tournament unbeaten. The players really wanted the gold medal. But could they beat their rivals?
Looking for the net
The U.S. scored two fast goals in the first period. Canada came out hard in the second. Brianne Jenner's power play goal made it 2-1. Then Jocelyne Laroque fired a slapshot. Jamie-Lee Rattray tipped it in.